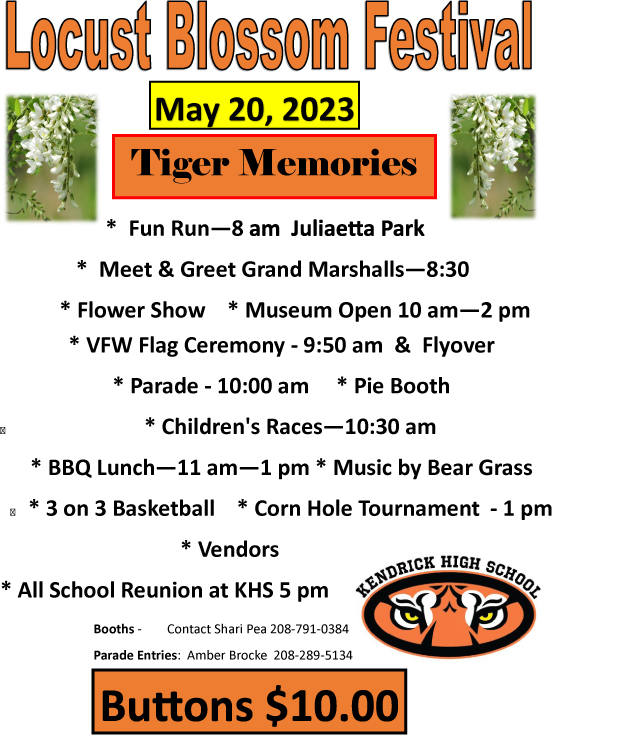 The 20th needs to be circled on your calendar. The Lions Club is presenting the festival a week earlier than usual to avoid conflicts with KHS Graduation, Memorial Day activities, and more. The theme this year is Tiger Memories, in honor of the first All School Reunion at KHS beginning at 5 pm.
Events kick off at 8 am with a new Color Run which begins at KHS. This event is sponsored by the Juliaetta PTA and should be a lot of fun. If you choose to just run, that accommodation will be available.
At 8:30 a "Meet and Greet" event will be held in honor of our Grand Marshalls, Don and Ann Parks and Dawn Quigley, at the Hardware Brewery.
The VFW will present an opening ceremony at 9:50 am, with a Fly-over provided by Hanger 180, which is scheduled for 10 am to honor our veterans. Be sure to purchase a button for $10.00 that buys you lunch and supports the festival.
The annual Parade will follow. Immediately following the parade, there are a variety of activities. The park will be filled with vendors and there will be Children's Races. The Museum will be open as well as the annual Flower Show from 10 am – 2 pm. The local FFA is sponsoring a 3 on 3 Basketball Tournament. Those of you who are pioneers, will want to register and get your Pioneer Ribbon. The Lions Club Booth will be selling Locust Blossom T Shirts.
BBQ Beef Lunch will begin serving at 11 am. Music by Bear Grass will entertain you. The Pie Booth will be available all day to treat your sweet tooth.
At 1:00 pm you can enter the Corn Hole Tournament and test your skills.
At 5 pm the first annual All School Reunion will launch at KHS.
Here are some important contact numbers as you plan for a parade entry and more:
Booths – Shari Pea 208-791-0384; Parade Entries – Amber Brocke 208-289-5134;
Color Run – Chelsie Ball 208-790-2992; and 3 on 3 – Matt Ross 503-476-4840.
Bring your lawn chair and plan for a day of enjoying Kendrick in its 134th year.
Sharon Harris